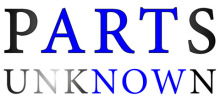 PARTS UNKNOWN is a free play reading series showcasing new plays and plays in translation from around the world, including works by writers unfamiliar to U.S. audiences.

VTC is proud to partner with the 53rd Street Branch of the New York Public Library to present the PARTS UNKNOWN Play Reading Series in their newly opened atrium.
From France



 Thursday, October 22  6:00 PM
The Day My Father Killed Me



by
Charlotte Boimare and Magali Solignat
Translated by Amelia Parenteau

Directed by Lisa Rothe

Casting by Stephanie Klapper Casting

Starring

Oceana James

and

Antonevia Ocho-Coultes




The Day My Father Killed Me by Magali Solignat and Charlotte Boimare, translated from French by Amelia Parenteau, is based on the true story of a popular singer and radio DJ in Guadeloupe who murdered his 18 year-old son. Devised as a documentary theater work, the play offers a diverse narrative account of the crime through a chorus of voices reflecting the complexity of familial conflict. Exploring fundamental themes of identity, power, and compassion in contemporary Caribbean society, this play emphasizes the universality of belonging through an intimate and intensely personal lens. Run time is 50 minutes.

Watch Live on Zoom!


The translation of the play, Le jour où mon père m'a tué, by Charlotte Boimare and Magali Solignat, translated by Amelia Parenteau, was commissioned by ACT (Actions Caribéennes Théâtrales), a project initiated by Stéphanie Bérard of Siyaj Company, Guadeloupe in collaboration with Frank Hentschker of the Martin E. Segal Theatre Center, The Graduate Center CUNY, New York. The project was supported by the FACE Foundation.
PARTS UNKNOWN Play Reading Series is made possible in part with public funds from Creative Engagement, supported by New York State Council on the Arts with the support of Governor Andrew Cuomo and administered by Lower Manhattan Cultural Council. This program is supported, in part, by public funds from the New York City Department of Cultural Affairs in partnership with the City Council.